Ecomm Customer Journey From a Marketer's
Perspective
How Did I Get Here and Why Did I Purchase That?
Hello and welcome to the very beginning of your purchase journey!
You begin aimlessly scrolling through Instagram –– all of sudden –– you can't differentiate if you're viewing an ad or some mega-influencer's outfit of the day. But then, through the clutter, something catches your eye, and without hesitation, you swipe back up. A neutral color palette paired alongside a tropical city landscape evokes a sense of calmness amidst the chaos of bright colors, filters, and everyone's favorite –– selfies.
Awareness Stage
There it is. It's that gym shoe you didn't know you needed, but now you have to check it out! We often refer to this as the awareness stage, which is the moment a consumer becomes interested enough to interact with a product (or service) for the first time.
According to Instagram1, 60% of people say they discover new products on the platform and 75% of Instagrammers take action after being inspired by a post.
So what's next? You click the post and begin to curiously browse the retailer's website. And yet, your cart is still empty.
You begin engaging with the site's content and features: color options, user-generated reviews, well-photographed product images, etc. Then, you ask yourself, do these gym shoes check all my boxes to actually want to buy them? They look great, but are they going to fit? What if the color doesn't match what I am seeing on the screen? Yet, Sarah Green, a verified purchaser from Tacoma, Washington, says ​"These are the most comfortable shoes I have ever worn. Like, ever!" This initial exploration (or research) helps create confidence during the awareness stage, but there is a question that hasn't been answered yet.
Consideration Stage
If only I could ask a real person a question about those shoes? Insert the chat function: another important site feature to help you make a decision. Let's see if you can use this to get your questions cleared up to move into the next stage of your purchase journey. According to BigCommerce2, ​"Live chat is the fastest channel of online contact, but many businesses still fail to utilize its benefits." In this case, and other cases alike, having that instant response gives the user the confidence to finalize their purchase.
According to SuperOffice3, live chat leads to a 48% increase in revenue per chat hour and a 40% increase in conversion rate.
You're all in - you need those shoes! Off you go to the next stage, consideration, which is when a consumer's intentions shift from low to high. According to Prisync4, ​"The more engaged a customer is during this phase, the higher the likelihood that they will purchase, which makes them more high intent customers".
Those gym shoes have officially been added to the cart — checkout here we come! It's typical for a consumer to go back and forth at this part of the decision-making process. Considering color options one more time before truly committing to the purchase (demonstrated below in the customer journey map).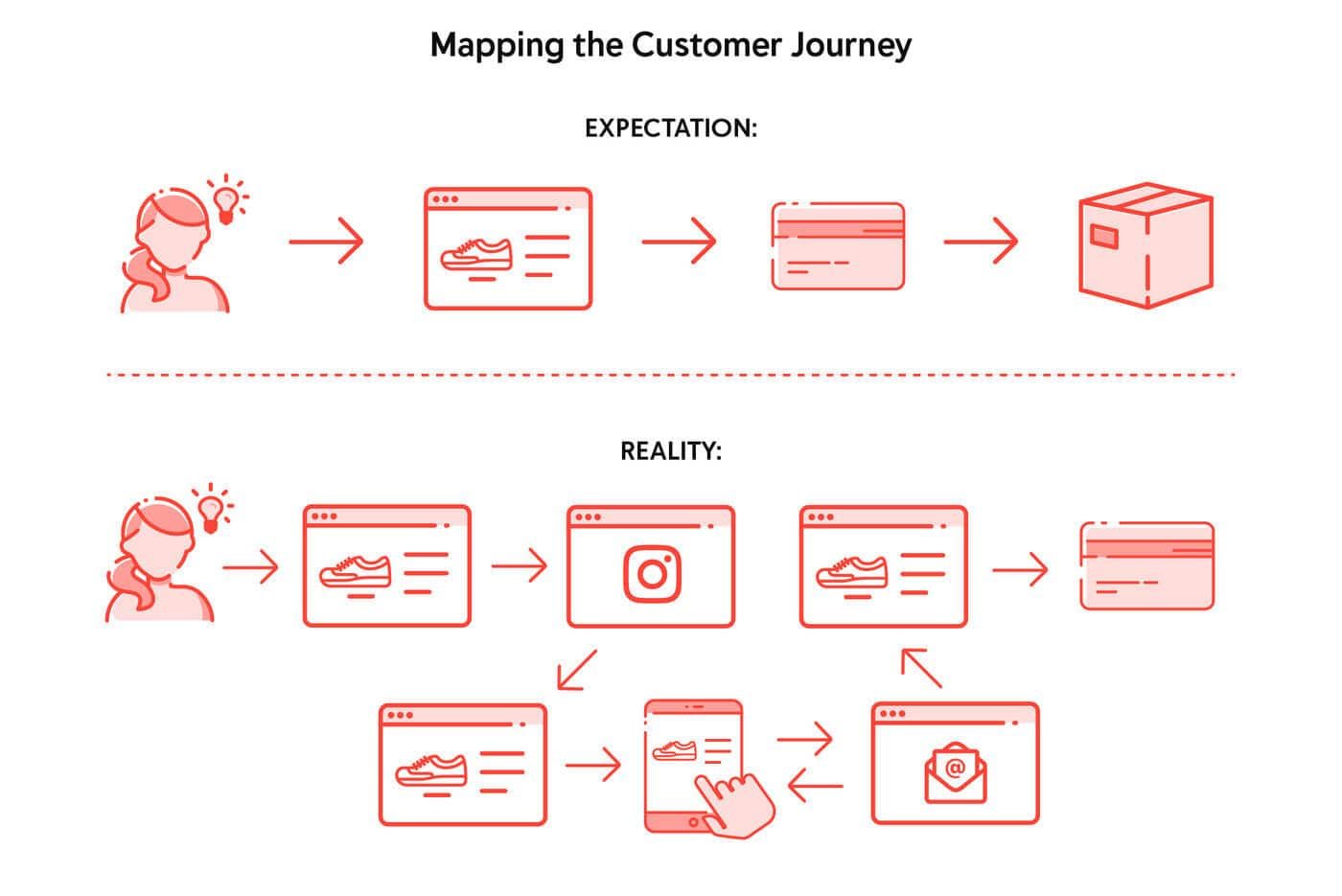 Acquisition Stage
All boxes have been checked and you're ready to make that purchase; this is the acquisition stage. This is when you have fully committed to entering your credit card information, hitting submit, and receiving your confirmation email. Just like that, an everyday occurrence of endlessly scrolling Instagram turned into the purchase of a brand new pair of gym shoes. Why? Because the following digital touchpoints were carefully curated to funnel the customer through their purchase journey.
Targeted Instagram Ad led me to an ↓Ecomm Website that featured ↓User-generated reviews ↓Well-photographed product images ↓Color options ↓Chat Functionality which ultimately led me to ↓Checking out with my new gym shoes
Summary
In conclusion, the combination of the following three stages: Awareness, Consideration, and Acquisition is the answer to our original question, ​"How Did I Get Here and Why Did I Purchase That?". Even as a marketer, I too am affected by a well-crafted sales funnel. I was intrigued by the beautiful photography in the Awareness Stage. Interacted with the site's features in the Consideration Stage, which took my level of interest from low to high, and ultimately led me to purchase the gym shoes in the Acquisition Stage.
Does your e-commerce site use these techniques?
1 Margot Whitney, ​"The Complete Guide to Advertising on Instagram" WordStream (blog), April 2020
2 Live Chat Benefits for Ecommerce Sites. BigCommerce, May 2020
3 Steven MacDonald, ​"25 Reasons Live Chat Can Help You Grow Your Business" SuperOffice (blog), January 22, 2018
4 Prisync, "How to Understand Your Customer Journey from your Ecommerce Analytics", The Startup, May 25, 2018