Bricks and Mortar to Clicks and
Compassion
The Design of Empathetic E-commerce
A few years ago, I sat glued to my tv watching Matt Damon and Gwenyth Paltrow in the 2011 thriller Contagion, the Hollywood version of our real world right now. Never in my lifetime would I have thought anything like this could happen, and moreover, how it's affecting every single aspect of our lives.
In this two-part series, we'll first explore how empathy plays a role in maintaining the relationship a brand has with their consumer online during these unprecedented times. Then we'll share how that translates into designing e-commerce experiences that bring ease-of-use and even a little joy to a consumer whose world is turned upside down.
A Captive Audience
Nielsen recently released a global study of six consumer behavior stages of COVID-19 concern, where as of mid-April, the U.S. finds itself moving from level 4 ​"quarantined living preparation" to level 5 ​"restricted living". As the number of COVID-19 cases increase, and authorities begin to ​"lock down" communities, the reliance on e-commerce becomes very clear.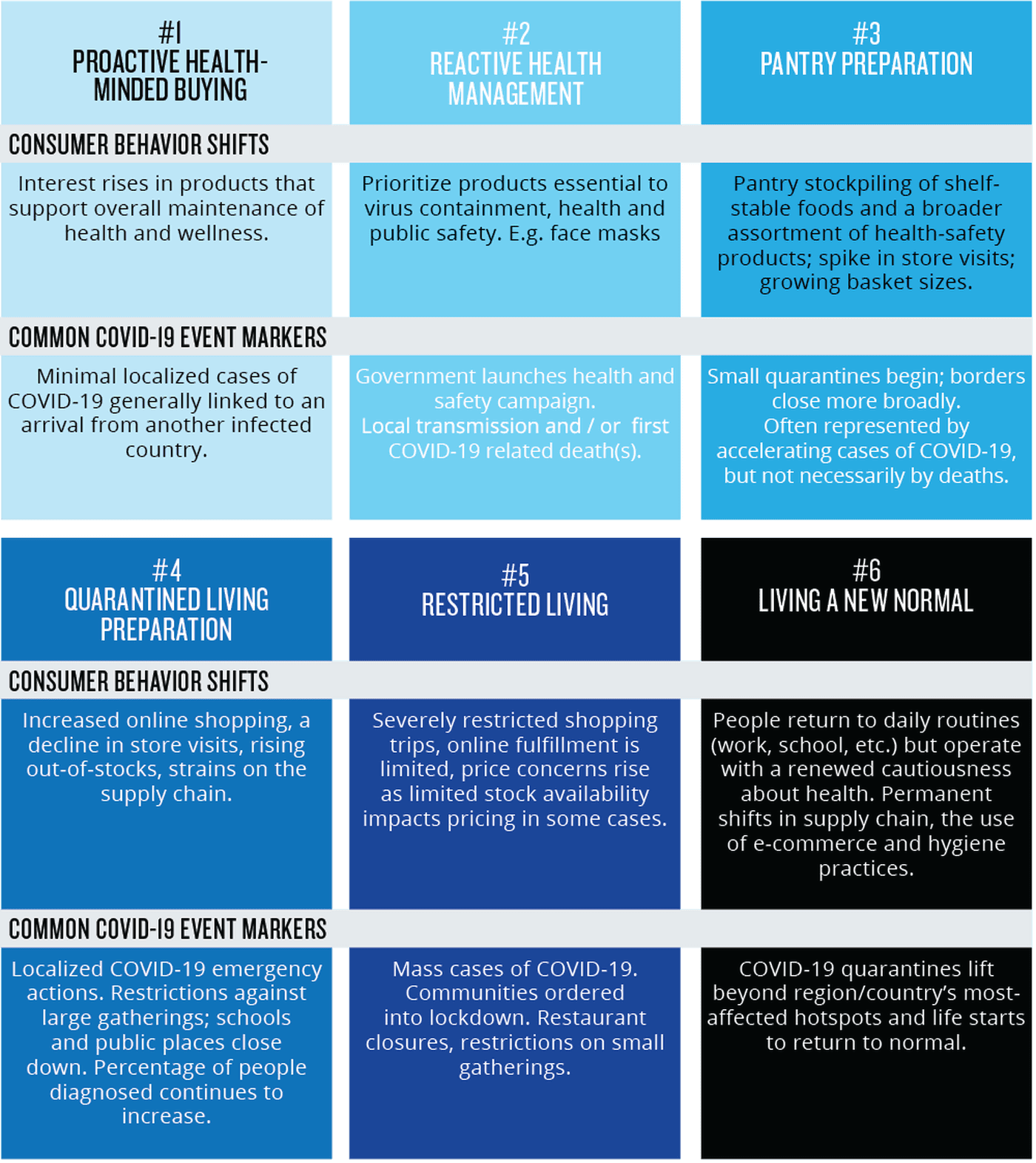 As you can see (and are experiencing) levels 4 and 5, retail stores have been temporarily closed with trips to the store curtailed. Now more than ever does a brand's e-commerce site need to do virtually all the heavy lifting to allow them to even remain in existence. It's a sobering thought, but one that provides opportunities to adjust in this new landscape.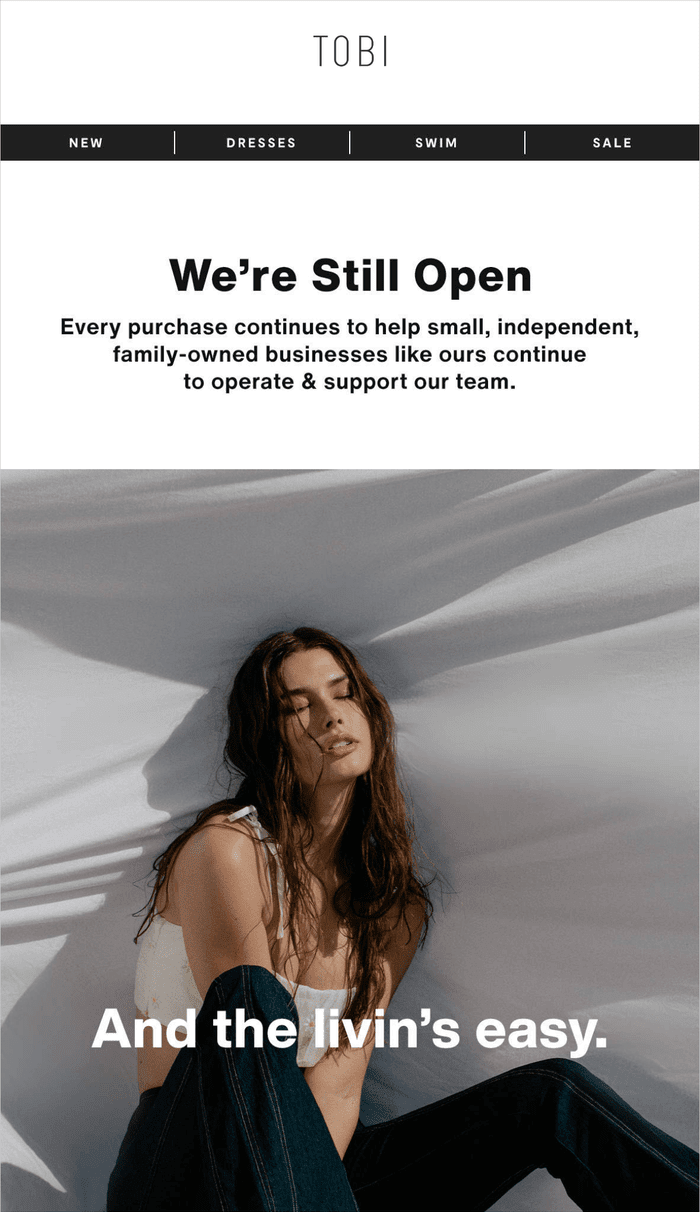 Plus, with consumers required to stay indoors, one might say a brand has a captive audience. Shoppers of all ages are relying on e-commerce sites for necessities (food, prescriptions, home improvement items, cookies) as well as the things that make them feel better and restore a bit of ​"normal" in their world (books, board games, art supplies, cookies).
Acknowledge the Situation
Brand and marketing managers, just like the rest of us, are balancing protecting themselves and their families while also maintaining their brand essence. There's no need to pretend everything is ​"A-OK" or that life as we know it is normal. It's perfectly acceptable for a brand to acknowledge the situation head-on and share how they are coping with the day-to-day challenges, especially how they are supporting their employees. Tobi hits the nail on the head in a recent e-mail sent to their customers (seen here).
Those brands being transparent of their efforts to protect their employees may see an increase in consumer loyalty. A recent study1 suggests 64% of Americans will have increased their brand loyalty as a result of how businesses are seen to be helping communities and staff during COVID-19.
What's happening in the world isn't a taboo topic. Acknowledge what's going on and how your brand is dealing with the everyday.
The Truth—Even If Inconvenient—Goes a Long Way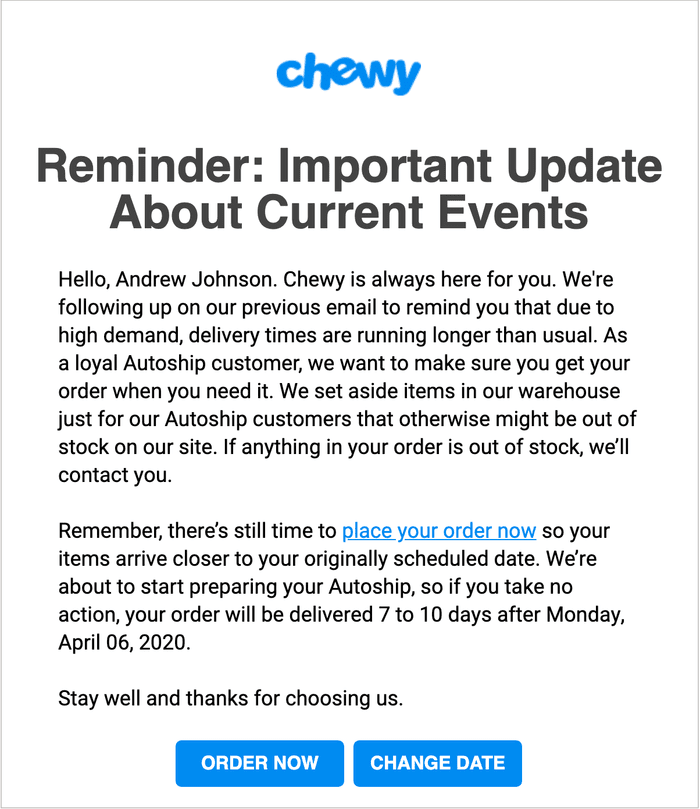 Companies, especially those with a retail presence, should be completely transparent with their customer base. If required to temporarily close a physical shop, brands should direct consumers to a digital store and reinforce that it's business as (almost) usual. Letting them know how you plan to continue during the situation is key; from disinfecting employee areas, providing protective gear to announcing reduced hours.
For example, If there is a disruption in the supply chain, you're running at half staff or it will take longer for orders to be processed, be upfront about it. Nothing will erode confidence in your brand more than to tell an anxious dog-owner their special dog food is in stock, only to delay the order and ship it later than promised.
Use simple, clear, decisive language in your communication with customers, and always inject your brand's voice and tone. Chewy.com, seen here, strikes the right tone of informative and comforting. Customers that have shopped with you before will understand, and those that are first-time shoppers will appreciate the honesty.
We used to be able to say, ​"Put yourself in their shoes", to help determine how a consumer might be feeling. But since we're all wearing the same shoes now, ask yourself how you'd like to be addressed: truthfully and with crystal clarity.
Don't Stop the Conversation
Anxious customers want to hear from their trusted brands and understand what those brands are doing to make them feel supported. Now is not the time to be reactionary and cut marketing budgets.
A study has shown that brands that protect marketing spend during economic downturns tend to fare much better in the recovery period after. On average, during the last recession, brands that increased investment saw approximately a 17 percent increase in incremental sales.2
Maintain the good equity your brand has built by better connecting with and supporting your consumers. That support could be financial (a special promotion), convenience (free shipping, curbside pickup) or simply feeling safe in their purchasing decision (video chat, free returns).
With so much going on in our world and so much to think about, continue to communicate with your customer. Don't assume they'll keep thinking about your brand.
Your customers need to know you share a common challenge and as you stand by them, they'll continue to keep your brand top of mind when making a purchase decision.
This Is Only The Beginning
As the dust settles a bit and we come to grips of this new reality, brand and marketing managers will still be held to some kind of revenue goal. A study by Listrak3 of more than 850 U.S. e-commerce stores shows a 28 percent increase in revenue since the U.S. declared a state of emergency on March 13th. Spending is there, but brands need to face the challenge head on, and stay connected with their customers with honesty and compassionate empathy.
In part two of this series, I'll explore the impact effective user experience design has on a consumer's decision-making and purchase process, and how great visual design can further the connection between brand and customer.
1 COVID-19: How is Brand Messaging Impacting Consumer Behavior. Research for Good, April 2020.
2 Don't Panic - Adapt to Strengthen Your Brand for a Recession. Adage, April 8, 2020.
3 E-commerce in the Wake of COVID-19. Listrak 2020.